Digital Atheneum Project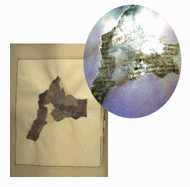 New techniques for restoring, searching, and editing humanities collections
Principal investigators:
Brent Seales, Department of Computer Science
James Griffioen, Department of Computer Science
Kevin Kiernan, Department of English
University of Kentucky
---
This work, funded by the National Science Foundation's Digital Libraries Program, will develop new digital libraries, tailored to the requirements of scholars in the humanities, from aging and damaged portions of the Cottonian Collection at the British Library. The project will deliver state-of-the-art technical approaches to restoring severely damaged manuscripts, searching them as images, and presenting electronic editions for a widely distributed digital library of restored and edited, previously inaccessible, manuscripts.
In particular, the technical focus will encompass the following research areas:
- Restoring manuscripts by using novel lighting methods and 2D/3D digital image processing algorithms making it possible to enhance, recover and restore information that would otherwise be invisible or illegible.
- Searching manuscript collections using a new representation that supports fast and efficient search strategies over the images themselves and the structured information that is added to the image collection throughout the editorial process, such as text, commentary, links to other resources, and restoration parameters applied to specific portions of the images.
- Editing collections using tools that are developed specifically for scholars in the Humanities to allow efficient assembly of complex editions from high-resolution digital manuscript data.
The project has strong support from IBM through a Shared University Research (SUR) commitment. Partnership with the British Library provides privileged access to high-quality collections, manuscript and curatorial expertise, and digitization facilities. The University of Kentucky has designated space and network communications support in the W.T. Young Library for the Collaboratory for Research in Computing for Humanities. The close collaboration of computer scientists and scholars in the humanities will insure that the technical approaches facilitate the use by scholars of currently inaccessible cultural documents.
---
---
---
This award is effective March 15, 1999 and expires February 28, 2003.
This grant is awarded pursuant to the authority of the National Science Foundation Act of 1950 (42 U.S.C. 1861 et seq.) and is subject to GC-1 Grant General Conditions (10/98) and the following terms and conditions:
This award is made in accordance with the provisions of NSF 98-63, "Digital Libraries."
---
| | | |
| --- | --- | --- |
| | © 2005 Electronic Facsimiles & Texts | Last Modified by KSK |